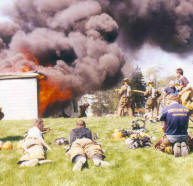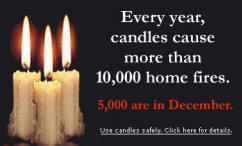 Materials most easily ignited by candles are:

Mattresses and bedding Cabinetry Curtains and Drapes Interior Wall Coverings Upholstered Furniture Event Decorations Clothing Magazines Newspapers and Writing Paper Rugs and other Floor Coverings Towels

Beware of Lead Wicks


A paraffin candle sometimes has lead in the wick's core, which you can spot by looking for a thin wire in the center of the cotton wick. Lead matter is emitted when the candle burns. This is distressing news in light of the fact that 100 percent of lead inhaled from candlewicks is absorbed into the bloodstream.

The Journal of the American Medical Association suggests that families exposed to candles with metallic wicks should have their blood-lead levels checked.


Children are particularly vulnerable to lead poisoning. Chronic low-level exposure can produce permanent neuro-psychological defects and behavior disorders, including low IQ, short attention span, hyperactive behavior and motor difficulties. As for adults, early signs of poisoning include gastrointestinal problems, muscle pains and weakness, irritability, excessive thirst, headache, insomnia, depression and lethargy. People with asthma or lung or heart diseases are especially susceptible because even small amounts of lead particles can aggravate their condition.

Candles are enjoyable, calming and fragrant, but don't ever forget that when you burn them, you are dealing with fire. Always take proper precautions to prevent your enjoyable experience from turning into a disaster.
The number of home fires started by candles has increased dramatically in the last ten years. According to the National Fire Prevention Association the number of fires caused by candles in homes throughout the country increased from 5,460 in 1990 to 11,600 in 1997 - the most recent year for which data are available. Ironically this increase occurred during a period in which home fires in general are on the decline. U. S. consumers spent over $2.3 billion on candles during the year 2000. Since the candle-making industry has grown (and continues to grow) at a rate of about 10 to 15% annually, opportunities for home fires will increase even further unless consumers become more aware of the potential for danger that candles pose if they are not used in accordance with established safety procedures.
Most of these candle-caused fires started when lit candles were left unatte
nded, or because some form of combustible material was left too close to the candle, or because children were playing with the candles or something flammable near the candles. Five percent of home candle fires started when the occupant fell asleep while the candle was burning. Almost half of all candle fires start in the bedroom.