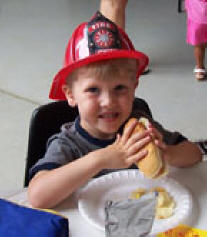 We all need some sun exposure; it's our primary source of vitamin D, which helps us absorb calcium for stronger, healthier bones. But it doesn't take much time in the sun for most people to get the vitamin D they need, and unprotected exposure to the sun's ultraviolet rays can cause skin damage, eye damage, immune system suppression, and even cancer. Even people in their 20s can develop skin cancer.

Most children rack up between 50% and 80% of their lifetime sun exposure before age 18, so it's important that parents teach their children how to enjoy fun in the sun safely. With the right precautions, you can greatly reduce your child's chance of developing skin cancer.
Avoid the Strongest Rays of the Day
First, avoid being in the sun for prolonged times when it's highest overhead and therefore the strongest (normally from 10:00 AM until 4:00 PM in the northern hemisphere). If your child is in the sun between these hours, as many kids are, be sure to apply protective sunscreen - even if he or she is just playing in the backyard. Most sun damage occurs as a result of incidental exposure during day-to-day activities, not at the beach.
Even on cloudy, cool, or overcast days, UV rays travel through the clouds and reflect off sand, water, and even concrete. Clouds and pollution don't filter out UV rays, and they can give a false sense of protection. This "invisible sun" can cause unexpected sunburn and skin damage. Often, kids are unaware that they're developing a sunburn on cooler or windy days because the temperature or breeze keeps skin feeling cool on the surface.
Safety Tips
Babies under 6 months of age need extra protection from the sun. Babies have sensitive skin that is thinner than adult skin.
Babies younger than 6 months should be kept out of the direct sunlight. Move your baby to the shade or under a tree, umbrella or the stroller canopy.
Dress your baby in clothing that covers the body, such as comfortable lightweight long pants, long-sleeved shirts, and hats with brims that shade the face and cover the ears.
If your baby gets a sunburn and is younger than 1 year of age, contact your pediatrician at once - a severe sunburn is an emergency.
If you cannot keep your child covered and in the shade, sunscreen can be applied. However, before covering your baby with sunscreen, be sure to apply a small amount to a limited area and watch for any reaction.
For children older than 1 year old and all family members, follow these simple rules to protect your family from sunburns now and from skin cancer later in life: