More than 4,000 Americans die each year in fires, and approximately 20,000 are injured. Deaths resulting from failed emergency escapes are particularly avoidable.
The United States Fire Administratio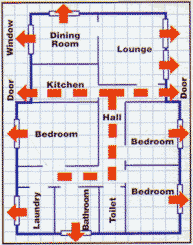 n (USFA) believes that having a sound escape plan will greatly reduce fire deaths and protect you and your family's safety if a fire occurs.
Have a Sound Fire Escape Plan
In the event of a fire, remember - time is the biggest enemy and every second counts! Escape plans help you get out of your home quickly. In less than 30 seconds a small flame can get completely out of control and turn into a major fire. It only takes minutes for a house to fill with thick black smoke and become engulfed in flames.
Once Out, Stay Out
Remember to escape first, then notify the fire department using the 911 system or proper local emergency number in your area. Never go back into a burning building for any reason. Teach children not to hide from firefighters. If someone is missing, tell the firefighters. They are equipped to perform rescues safely.
Links
How to Make an Escape Plan
Explain to your family that you're going to create a home escape plan that could save you all in the event of a fire.
Get a piece of white paper and a pencil or print the link above.
Draw a simple diagram of your house.
Go through the diagram carefully with family members and find two escape routes for every room in the house - the bedrooms in particular. Windows are included as escape routes. If living in an apartment, locate the fire exits and stairs.
Draw arrows on the escape plan, showing the ways out.
Make sure every family member is familiar with the exits chosen.
Decide on a meeting place for family members outside.
Stress the fact that family members should get themselves out in the event of a fire. Do not go running through the house looking for others. Go to a

neighbor's home

and call 911.
Practice opening windows, taking off screens and, if on a second story, using ladders. This is especially important for children, who can have trouble working window locks or collapsible ladders without practice.
Make sure there are no security bars on bedroom windows - or if there are, make sure they can be opened and closed easily.
Tape a copy of the home escape plan to the back of each bedroom door