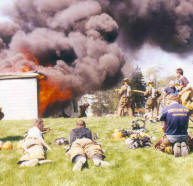 Smoke alarms that are properly installed and maintained play a vital role in reducing fire deaths and injuries, and have contributed to an almost 50% decrease in fire deaths since the late 1970s.
A 2004 telephone survey found that 96% of U.S. households had at least one smoke alarm, yet in 2000-2004, no smoke alarms were present or none operated in almost half (46%) of the reported home fires.

An estimated 890 lives could be saved each year if all homes had working smoke alarms.

65% of reported home fire deaths in 2000-2004 resulted from fires in homes with no smoke alarms or no working smoke alarms.
Source: NFPA's "U.S. Experience with Smoke Alarms and Other Fire Detection/Alarm Equipment", by Marty Ahrens, April 2007
Smoke alarm safety tips
What your family needs to know about smoke alarms.
Ionization vs. photoelectric
NFPA recommends using both technologies in the home.
Children and smoke alarms
Parents should ensure smoke alarms can awaken children.
Fact sheet about smoke alarms (PDF, 639 KB)
Installation and maintenance tips
Install smoke alarms on every level of your home, including the basement, making sure that there is an alarm outside every separate sleeping area. New homes are required to have a smoke alarm in every sleeping room and all smoke alarms must be interconnected.

Hard-wired smoke alarms operate on your household electrical current. They can be interconnected so that every alarm sounds regardless of the fire's location. This is an advantage in early warning, because it gives occupants extra time to escape if they are in one part of the home and a fire breaks out in another part. Alarms that are hard-wired should have battery backups in case of a power outage, and should be installed by a qualified electrician.

If you sleep with bedroom doors closed, have a qualified electrician install interconnected smoke alarms in each room so that when one alarm sounds, they all sound.

If you, or someone in your home is deaf or hard of hearing, consider installing an alarm that combines flashing lights, vibration and/or sound.

Mount smoke alarms high on walls or ceilings (remember, smoke rises). Ceiling mounted alarms should be installed at least four inches away from the nearest wall; wall-mounted alarms should be installed four to 12 inches away from the ceiling.

If you have ceilings that are pitched, install the alarm near the ceiling's highest point.

Don't install smoke alarms near windows, doors, or ducts where drafts might interfere with their operation.

Never paint smoke alarms. Paint, stickers, or other decorations could keep the alarms from working.