Thirteenth Annual Child Safety Advocate Awards Ceremony Honors

Indiana's Child Safety Advocates

(Indianapolis, IN– June 6, 2008) – The accidental injury death rate of children 14 and under has declined by 45 percent in the United States since 1987, yet accidental injury remains the nation's leading killer of kids, according to a new national report release by Safe Kids USA.

"We're losing too many children to an epidemic that can be prevented," said Mitch Stoller, president and chief executive officer of Safe Kids USA. "The 45 percent drop demonstrates tremendous progress, but we can't lose sight that accidental injury remains the leading killer of our nation's kids and that many of these injuries can be prevented."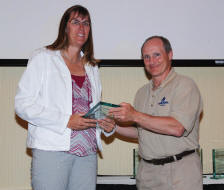 "The drop in children's accidental deaths gives us thousands of reasons to celebrate – one for every single child that was saved from a serious or fatal injury," said Autumn McNichols, Safe Kids Indiana's State Coordinator. "But we're still losing too many kids in this country, which is why Safe Kids Indiana joins the national efforts to make child injury prevention a priority and recognizes those individuals who go the extra mile in keeping children safe."

On June 2nd, in conjunction with the 2009 Indiana Injury Prevention Conference held in Indianapolis, Safe Kids Indiana and the Automotive Safety Program honored the efforts of those persons and organizations in Indiana who exhibit a true dedication to the prevention of injuries and deaths to Hoosier children by presenting them with a Child Safety Advocate Award.

There were six winners selected for this prestigious award. Among the winners was Alice Blakesley, the co-coordinator of Safe Kids St. Joseph County. Alice was nominated for this award by Ron Melser. "Alice is committed to giving back to St. Joseph County and surrounding communities. She has volunteered hundreds of hours for Safe Kids and other safety events throughout the county and has collaborated with local groups to once again make Safe Kids St. Joseph County a strong program", said Melser. "As co-coordinator of Safe Kids St. Joseph County, Alice has taken a serious approach to her leadership role. Believing in the power of the grassroots movement, she has taken every opportunity to apply for grants that will help keep the children of her community safe. Alice leads local fundraising efforts for the group, and she is always looking for creative ways to help families and children. Alice participates in research opportunities and works to critically evaluate proposed programs to reduce injury to children. She is a true advocate for children locally and statewide. She does this work without ever looking for self-promotion. Her focus and drive sets a standard that would be difficult, if not impossible, for others to achieve."

Other award winners include the following: Angela Biddle-Marion County Traffic Violations Bureau; John Brock-Safe Kids Fulton County; Brandon Halleck-CHANCES for Indiana Youth; Harrison County Hospital EMS; and Tammy Pairitz-The Women's Care Center.